Angling in Kashmir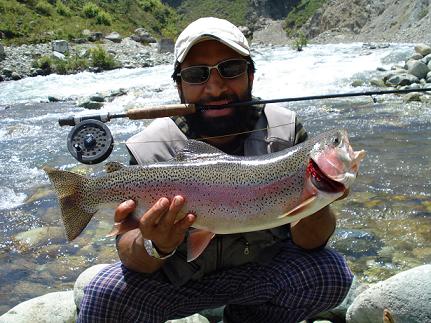 Kashmir is called the Anglers Paradise because the valley of kashmir contains crystal-clear cold water turbulent streams, mighty springs, Sars and many high altitude lakes, lofty snow-clad mountains, thick forests of pine trees, lush green meadows, beautiful valleys and a beautiful fish fauna with a very pleasant and healthy climate. Kashmir offers great scope for sport fisheries. That is why Anglers from all over the world come over here every year to enjoy the thrill of angling in the snow fed streams and lakes of this valley.


Trout Streams

Trout is present in all the streams and Nallahs of the valley. The important ones are Lidder, Wangath, Gurez, Hamal, Lam, Sindh, Kishenganga, Sukhnag, Doodhganga, Erin, Ferozpur(Tangmarg), Bringi, Aharbal, Hirpora, Dachigam, Kokernag, Naristan, Madhumati and Nowbugh. These streams have been divided into a number of trout beats by the Department of Fisheries. For detailed list of these Trout Beats Click here.

Angling Season

Angling is open from month of April to September every year. However the duration of angling can be extended or shortened by the Directorate of Fisheries, J & K Government on the basis of suitable conditions prevailing from time to time.

Rules for Angling

Angling is not allowed without a licence / permit. The licence is valid for one day only. The bag limit is 6 fish only.

Licence / permit has to be kept along during fishing and produced to the departmental officials on demand.

No sub-letting, sharing or transfer of fish permit is allowed. All natural baits, dead or alive, are prohibited. Only artificial-fly-fishing is allowed. No un-authorised persons are allowed to work as shikaries (Gillies). Only one rod per angler is allowed.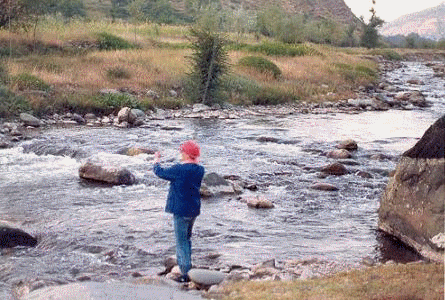 Licence / Permits

Anglers can book angling licence / permit online at www.jk.gov.in/jkeservices or www.jkfisheries.in. Before applying the services, user has to register Link given on the menu. The angling fee is charged online on a per day basis @ Rs. 2000/- per day from the foreign anglers and Rs. 1000/- per day from local Anglers. For details of all types of Licence Fees of the Department Click here.





Gillies

The department can provide the services of experienced Gillis (Shikaries) on request. Other terms and conditions can be given on spot by the officer / officials of the department.
| | |
| --- | --- |
| Revenue Realization on account of Angling fee | |