Aquariums
&nbsp&nbsp&nbsp&nbsp&nbsp&nbsp&nbsp&nbsp&nbsp&nbsp&nbsp&nbsp&nbsp&nbsp There are 2 Aquariums across the State



Aquarium cum Awareness Centre
Bahu Fort Jammu
The Project Aquarium cum Awareness Centre at Bahu Fort, Jammu was initiated during the year 1994-95 under the instructions of Lt. Gen. D.D. Saklani (Retd.) the then Advisor to Governor of J&K. Aquatic organisms kept alive for observation at close quarters in separate water tanks / vessels with glazed walls is called Aquarium. Aquarium is basically a latin word. Because of separate tanks, it is easy to segregate the species and provide label for identifications. The desired environment with live aquatic plants can also be created in separated tanks. Many people visit aquarium for entertainment or for curiosity. Many biological matter, exhibits provide invaluable aid in education for school and college students. The site is located at Bagh-e-Bahu, Jammu adjacent to the historical Bahu Fort, on the bank of river Tawi. It is a most scenic site and one of the best attraction of the tourists.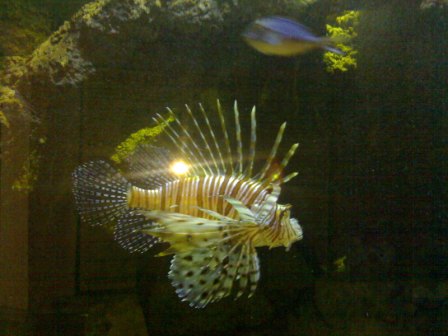 Main Objectives of the Project.
As a tourist attraction for Public.

As recreational centre to motivate masses for fish keeping as a hobby at different places.

To educate the students about aquatic animals their habit, habitats, food and feeding, morphology and other biological activities.

Research centre for scholars.

To create awareness among general public regarding conservation and management of fishes and other aquatic organism.

As a guideline for setting up of Aquarium enterprise in pvt. Sector thereby solving a problem of unemployment and there by improving socio – economic status of poor masses.

To have a look of marine environment with its flora and fauna, far away from natural environment.

Revenue Realized and Visitors visited in the Aquarium since Inaguration in 2007.


| | | | |
| --- | --- | --- | --- |
| S.No. | Year | Revenue (Rs. in lacs) | Visitors Visited (In No.s) |
| 1. | 2007 - 08 | 31. 327 | 352175 |
| 2. | 2008 - 09 | 47. 886 | 270445 |
| 3. | 2009 - 10 | 57. 320 | 334637 |
| 4. | 2010 - 11 | 66. 500 | 400581 |
| 4. | 2011 - 12 | 80. 785 | 380920 |
| 5. | 2012 - 13 | 85. 728 | 451907 |
| 6. | 2013 - 14 | 82.89 | 456300 |
| 7. | 2014 - 15 | 89.93 | 463000 |
| 8. | 2015 - 16 | 80.96 | 446000 |
| 9. | 2016 - 17 | 87.00 | 477000 |
---
Aquarium cum Awareness Centre
Gagribal Srinagar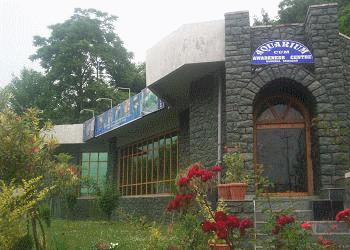 Dal Lake of Kashmir is one of the most beautiful and picturesque lakes in India. It has been and continues to be a part of the poetry by some renowned poets. The second largest lake of J&K State, Dal Lake is enriched by magnificent mountains on three sides. Adorning the banks of the Dal Lake is a number of blooming gardens and orchards. The Dal Lake of Kashmir is divided into four parts by causeways, namely Gagribal, Lokut Dal, Bod Dal and Nigeen. The Aquarium cum Awareness Centre is situated at Gagribal Srinagar and is existing since the year 1952 under the control of Fisheries Department, however in the face of development to Shankracharia Road and consequent blasting of the stones the existing structure was damaged which compel the department to apply for and obtain formal building permission from the Competent Authority way back in the year 1988 for reconstruction of the existing structure of the existing plinth in accordance with the site/building plan duly approved. At present, there is a small Aquarium Centre which will be extended and developed into a major aquarium on the pattern of the one at Bagh-i-Bahu Jammu. The Aquarium cum Awareness Centre and the Trout Fish Sales outlet is located by the site of Lake view park, which is frequently visited by the tourists and also school going children. Visitors visit from across the world including school children's visit the famous Aquarium cum Awareness Centre Gagribal and get acquainted with Aquatic fish and other fish species of the State. The Aquarium will be the second in the State after Bagh-I-Bahu Aquarium in Jammu that draws thousands of enthusiastic visitors daily. This will be an added attraction for tourists visiting the lake area, where more than a dozen Mughal Gardens already exists for centuries on its banks and Asia's biggest Tulip Garden.